Pam Carrizales || Parent & Family relations
Meet Pam Carrizales, the next person in our #FirstYearFeature series. Pam is the Unit Coordinator of Parent & Family Relations. Parent & Family Relations doesn't only provide resources for parents, they provide services for students as well. Wanting to go home for the holiday? Check out their affordable Break Shuttle bus trips!
"We have our Spring Break bus trip that goes to San Antonio/Austin, Dallas/Fort Worth, and Houston. This is for students wanting to go home during Spring Break. They will leave on March 12th and arrive back to Lubbock on March 20th. Students are dropped off at a pretty easy location to where parents can pick them up, and the prices are pretty reasonable. Tickets sell out quickly so students want to be sure to purchase them as soon as they know their plans, that way they can be sure they will have a ticket. Charter busses will be departing from the Student Union Building in the band parking lot and they will also be dropped off there when they arrive on the 20th. Be sure and buy your tickets now!" –Pam Carrizales
---
Q: What services does your office have for First Year Students at Texas Tech University?
Although Parent and Family Relations helps serve parents and families of Texas Tech students, we do provide services for students. Many times first year students come to college without a vehicle which makes it difficult to travel home for the holidays. Parent and Family Relations has partnered with Break Shuttle to offer holiday bus trips for students traveling home for the holidays. Charter buses will transport students to/from Lubbock for Thanksgiving, Semester Break in December, and Spring Break. Destinations include: Houston, Dallas/Fort Worth, and Austin/San Antonio, and El Paso (Thanksgiving Break only). Tickets are sold on a first-come basis and prices vary by destination.
Parent and Family Relations hosts Sibling Weekend every spring semester for TTU students and their sibling's ages 8-15 years old. This event is a great time for siblings to reconnect and enjoy a weekend together in Raiderland.
Q: What do you enjoy most about your job?
The best part of my job is having the opportunity to build relationships with parents and family members of Texas Tech students and help them adjust to the Red Raider culture. Parents and family members are just as nervous as students so I enjoy helping them through this journey.
Q: What is your favorite thing about Texas Tech and why?
The people! Not only is West Texas and Texas Tech an extremely friendly environment, but the people genuinely care about each other. As soon as you step foot on campus you are a part of the Red Raider family.
Q: What is your favorite spot on campus?
The Jones AT&T Stadium is by far my favorite spot on campus. There is nothing better than being in The Jones during a Red Raider football game and hearing RAIDER-POWER.
Q: What advice would you give first year students?
Utilize campus resources! Departments such as University Career Center, Library, The Learning Center, Writing Center, Red to Black, and many more are FREE student resources to help you succeed during your time at Texas Tech. These departments can help with resume writing, tutoring, research papers, financial coaching and so much more! Do not be afraid to reach out to these departments, they are here for you and want to help.
Q: What is your favorite place to eat in Lubbock?
I love pizza so of course my favorite place to eat in Lubbock is West Crust Artisan Pizza. Their gourmet pizzas are extremely fresh and full of flavor it's no wonder The Food Network Magazine named them Best Pizza in Texas!
Q: What are some hobbies you have?
I love crafting, being outdoors, and watching sports.
Q: What is your favorite Tech Tradition?
---
More about Parent & Family Relations: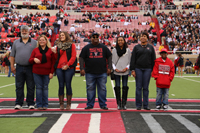 Family Weekend
Family Weekend is a great time to reconnect with your student and experience Texas Tech. You will have a whole weekend of events to choose from that will be fun for your entire family. Family Weekend 2015 was held September 25-26, 2015.  When the date for Family Weekend 2106 is set, it will be posted here.
Raider Relief Fund
The Raider Relief Fund is designed to help students experiencing a financial crisis remain enrolled at Texas Tech to complete their education. This program is managed by Red to Black (peer-to-peer financial counseling department). Students interested in this program should contact Red to Black at (806) 742-9781. To learn more or apply for Raider Relief Funding, visit their website.
Sibling Weekend
Sibling Weekend is held on the Tech campus and is is a fun, educational, and spirit-filled weekend for Tech students and their siblings between the ages of 8-15. The schedule includes athletic, spirit, craft, and educational activities that combine to provide a unique and special experience for Texas Tech students and their siblings. We hope those siblings attending will create even stronger bonds with their brother or sister who is at Tech and get a sense of what it's like to be a Red Raider.Save the date for Sibling Weekend 2016:  February 20-21, 2016.  Registration will begin in Decembe0r 2015 on the Sibling Weekend page.
Bus Trips
Parent and Family Relations periodically offers affordable bus trips for students going home for Thanksgiving, Semester Break and Spring Break. Cities that have been served by bus trips in the past include Dallas/Fort Worth, Houston, Austin, San Antonio, and El Paso (Thanksgiving only). Click Here for more information about upcoming bus trips.
Connect with Parent & Family Relations:
   Facebook